Itinerary 3: Zombies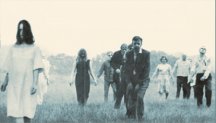 LOOKING AT ARTISTIC RESEARCH, IMMATERIAL PRODUCTION AND TRANSMEDIA NARRATIVES
The first itinerary of the A*Desk Study Programme 2013-2014, bears the title "Zombies, Frankenstein and the Pink Panther". The programme aims to analyse, study and discuss the combination of procedures and genealogical lines along which research in art practices flows.
In an open environment and through debate, the programme will explore subjects such as: the idea of emergence in art and culture; the investigation of moments of cultural transformation and how art, education, curating and critical theory can affect them.
During the itinerary, the role that research has in different processes linked to artistic creation and cultural mediation will be considered. And the different tools, related to ethno-methodologies, cultural sociology, qualitative research, arts based research and collaborative research will be analysed.
.
The itinerary includes 15 seminar session; 10 laboratory sessions; and 2 workshops, that will be led by Octavi Rofes and Tania Bruguera. The first will place an emphasis on the organisation of "project" based art practices, while the second will focus on how artistic processes can transform society.
.
SEMINAR PROGRAMME:
Seminar programme led by: Oriol Fontdevila, art critic and curator; David G. Torres, art critic, curator and co-director of A*Desk; Montse Badia, art critic, curator and co-director of A*Desk; Antonio Ortega, visual artist; Pilar Bonet, critic and art historian; Martí Anson, visual artist; Eloy Ferrnández Porta, writer, essayist and lecturer at the UPF; Efrén Álvarez and Antonio Gagliano, visual artists; Roger Sansi, anthropologist and lecturer at Goldsmiths University of London; Cristian Añó, member of Sinapsis; Pau Alsina, lecturer and researcher of art, critical thinking and techno-science; Manuel Segade, art historian and exhibition curator; and Lúa Coderch and Ignasi Prat, visual artists.
WORKSHOP PROGRAMME:
3 – 6 December 2013
Project based Art Projects. The transience of the creative process
Octavi Rofes, anthropologist and lecturer. Ethnographical investigation in creative processes, and the cultural production of place.
8 – 10 January 2014
Arte Útil (Useful Art)
Tania Bruguera, visual artist. Founder of Arte Coducta, in La Havana, and instigator of the research project Arte Útil.
LABORATORY:
Practical sessions led by Oriol Fontdevila.
Tutorials with Montse Badia, Pilar Bonet, David G. Torres and Antonio Ortega. .
The Arte útil workshop by Tania Bruguera is organised in collaboration with the Fundació Joan Miró.
The workshop session will take place in the Fundació Joan Miró. Parc de Montjuïc s/n. Barcelona. .
Prices:
1 itinerary (2 workshops and 1 seminar+laboratory): € 780.
1 seminar+laboratory: € 510.
1 workshop: € 170.
.
A*DESK Study Programme:
Dates: 29 October to 23 January 2014 For more information and the complete programme: contact@a-desk.org
.
In collaboration with:
.
.
.