Workshop with Dora García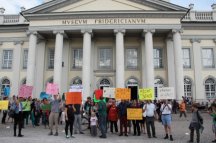 THE RADICAL IN THE SOCIAL AND THE EXPERIMENTAL IN THE ARTISTIC
Even thought the swing of the pendulum between heterodox and orthodox art, between art for art's sake and engaged art, has occurred with a rhythmic continuity since the first avant-gardes, over the last few years, it has been hard to ignore art with a strong commitment to the social, that reflects structures of the seventies and eighties. And that is despite the limited disposition the majority of museums feel for this type of art. The question, "What is art?" has been completely abandoned out of a lack of interest and now the really important one is, "Is it possible for art to blend in so much with other discourses that it becomes indistinguishable from them?". The idea of "useful art" coined by Tania Bruguera is quite a challenge to the Kantian concept of "pure disinterested satisfaction". What does art sacrifice in this process? Are the formal and the ethical really so distant? Or can we say along with Fassbinder that the radical in the political necessarily translates into experimentation with the form? .
Dora García's work is characterised by the participation of the spectators, who she pushes to adopt a posture in relation to ethically controversial questions and reflect on the institutional nature of the surroundings where the encounter with her artworks takes place, often using humour, paradox and a surprising approach to the formal. Amongst other locations, Dora García has presented her work at Münster Sculpture Projects 2007, The Spanish pavilion of the Venice Biennale in 2011 and in 2012 at documenta in Kassel.
.
Dates: From Tuesday 23 April to Thursday 25 April. 15.00 to 20.00.
Price of workshop: 170 €
For discounts consult the different itineraries within the A*DESK 2012-2013 Study Programme in Barcelona.
For more information, reservations and matriculations, write to contact@a-desk.org
.
Image: Dora García, "Klau Mich: radicalism in society meets experiment on TV", documenta 13
.