Workshop with Paul O'Neill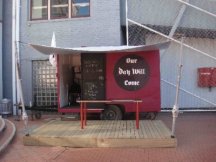 WORKSHOP WITH PAUL O'NEILL
Did Somebody Say Curating, Again? Recent Turns in Curatorial Practice
From Wednesday the 3 to Friday the 5 April 2013. Freom 15 to 20h.
This workshop will look at recent turns in contemporary curatorial practice. In doing so it will explore certain concepts of the discursive, the durational and the educational turns in contemporary curating. Given that the group exhibition has become the primary site and medium for curatorial experimentation it still represents a relatively new discursive space around artistic and curatorial practice.
This workshop will explore how different group exhibition-forms have investigated how the curatorial is made manifest, through cohesive and co-operative exhibition-making structures applied through close involvement of all those involved, where multiple actors and agencies are at work during different stages of exhibition production.
It will begin by exploring how exhibitions create certain social and spatial relations for the viewer, and how the an understanding of the exhibition-as-medium, and the exhibition-as-form, and their different durational dimensions are being contested. This workshop will continue to address the on-going "discursive turn" in contemporary curating to the more recent "educational turn" in a way that seeks a critical reconstruction of "the exhibition" and "the school" in curating and discursive practices. Key terms to be explored will be the curatorial, collaboration, duration, participation, ritual, citizenship, sociality, relationality, publicness, attentiveness, and the discursive.
Dr. Paul O'Neill is an artist, curator, educator and writer based in Bristol in the UK.  Paul has co-curated more than fifty exhibition projects including: Our Day Will Come: A free-school art project, Hobart, Tasmania (2011); We are Grammar, Pratt Institute Manhattan Gallery, New York (2011); Coalesce: happenstance, SMART, Amsterdam (2009);  General Idea: Selected Retrospective, Project, Dublin (2006). He is international tutor on the de Appel Curatorial Programme, Amsterdam.  His extensive writings on the development of contemporary curatorial discourse have been published in many books, catalogues, journals and magazines and he is a regular contributor to Art Monthly. He is Reviews Editor of Art and the Public Sphere Journal, and on the editorial boards of The Exhibitionist Journal and the Journal of Curatorial Studies. He is editor of the curatorial anthology, Curating Subjects (2007), and co-editor of Curating and the Educational Turn (2010) with Mick Wilson, both published by de Appel and Open Editions (Amsterdam and London), and Locating the Producers: Durational Approaches to Public Art (Amsterdam, Valiz, 2011) edited with Claire Doherty. His new authored book The Culture of Curating and The Curating of Culture(s) has recently been published by MIT Press, Cambridge, MASS., 2012.
.
Price of the workshop: 170 €.
Please consult the different itineraries within the Barcelona Study Programme of A*DESK 2012-2013 to obtain discounts.
The Workshop with Paul O'Neill forms part of the Barcelona Study Programme of A*DESK 2012-2013 (consult the complete programme here), that aims to establish an environment for continuous learning, for students and professionals, where questions relating to contemporary creation, cultural mediation –curating and education – and artistic research are reconsidered. The programme extends through until June 2013 and includes the realization of seminars, laboratories and workshops delivered by recognised professionals within different creative fields.
For more information, to reserve a place or matriculate, write to contact@a-desk.org
.