Presentation of Mizora, de Anna Bunting-Branch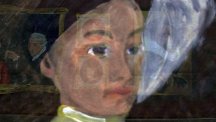 Mizora – A World of Women is a short science-fiction story, published anonymously by American author Mary E. Bradley Lane in 1881. The story of Vera, a Russian political exile, who discovers the land of Mizora, a utopia within the Earth that has evolved beyond the male race, is one of the first known feminist science-fiction novels. This new video by Anna Bunting-Branch takes this little-known text as a starting point, re-staging the rich imagery of the culture, science and technology of Bradley Lane's enchanted world of Mizora through painted sets and props.
The film will be presented in A*Desk on the 19th of February at 7pm by the author, Anna Bunting-Branch, who will answer questions from the audience at the end of the presentation and screening of the video.
Free activity (in English with translation support)
Further information about the work and the artist
Opening Tuesday 18 February from 19.00
19 February 28 | Hours 12.00 to 19.00 Passatge Studio