Workshop con Javier Rodrigo y Aida Sánchez de Serdio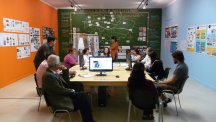 WORKSHOP WITH JAVIER RODRIGO AND AIDA SÁNCHEZ DE SERDIO
Crossovers and frictions between curating and education
From 26 February to 1 March 2013. From 16 to 20h.
Workshop exploring the museographic and pedagogical implications of collaborative practices, as well as the possibilities of articulating prototypes for action that would make museum structures more permeable to social dialogue. The objective is to propose ways for transforming current modes of cultural administration and management of artistic practices.
Taking a series of real institutional contexts as examples the group will be invited to develop an intervention proposal. One of the key features of the workshop is the desire to bear in mind existing conditions, or likely ones, for the curatorial-educational intervention. Consequently the group will be given a specific framework and orientation regarding the organisational dimensions of the project to be designed, within which they will have to situate their project.
Javier Rodrigo: Researcher and lecturer in art. Project Transducers. Project Contact Zones at the Centre d'Imatge La Virreina. His analytical focus is on cultural policies, collaborative practices and collective pedagogies.
Aida Sánchez de Serdio: Lecturer at the Faculty of Fine Art, of the University of Barcelona. Member of the Teb Youth Association and the association Artibarri. Project Contact Zones at the Centre d'Imatge La Virreina.
.
Price of the workshop: 170 €.
Please consult the different itineraries within the Barcelona Study Programme of A*DESK 2012-2013 to obtain discounts.
The Workshop with Javier Rodrigo and Aida Sánchez de Serdio forms part of the Barcelona Study Programme of A*DESK 2012-2013 (more information here), that aims to establish an environment for continuous learning, for students and professionals, where questions relating to contemporary creation, cultural mediation –curating and education – and artistic research are reconsidered. The programme extends through until June 2013 and includes the realization of seminars, laboratories and workshops delivered by recognised professionals within different creative fields.
For more information, to reserve a place or matriculate, write to contact@a-desk.org
.
Image: Encounter with educational rectors at the Transducers space at MDE11. Teaching and Learning: Places of knowledge in art. 2011. Museo de Antioquia. Medellín .Image creative commons
.